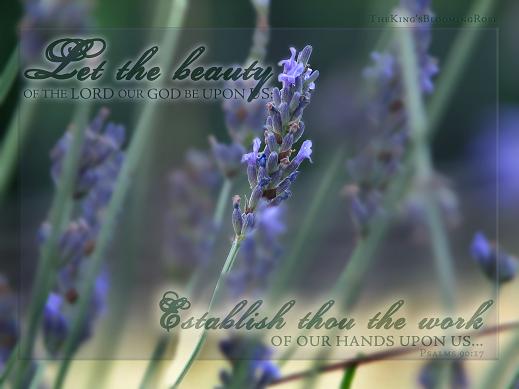 Recently, I wondered why God had not given a clear answer in various situations in my life, just a "yes" or "no"! I asked God why He could not just give my an answer so I could "move on with life." I just wanted to know the answer, to know what He had for this situation!
As I pondered this, He gave me a clear revelation of the reason: He reminded me that through me not knowing exactly what He has in the future, He draws me to Himself and shows me His all-sufficiency in all areas. Through waiting I have to turn to Him in complete surrender, waiting for His will. And this is exactly why He wants to lead me through situations when I do not know what is ahead. He desires me to look to Him completely in my insufficiency, to lean on His promises, to learn more fully Who He is and His great love.
Though it is hard not knowing what lies ahead, the best part is the lessons He will teach through it. I am so amazed that God loves me enough to teach me these wonderful lessons! He could simply let me wander alone, but He shows me Light and His character instead. Isn't it amazing to think God of all desires us to know Who HE is personally? He cares! How glad I am of that. I am so thankful He is working in my life! It is assuring to me to know that this time is being used profitably by Him.
His work is always so different from what we expect, isn't it? It always catches me by surprise, for some reason.
A friend recently encouraged me with her words on what God has been showing her as well:
"It is hard to not have a 'yes or no' answer to things. But really what matters is if we are trusting God with what we are doing and with what the outcome will be. I think one of the reasons He gives us these times where we can't see the road ahead is so that we will fully rely on Him! He says, 'Come to me, all you heavy laden and I will give you rest.'"
Maybe you are not sure what is in your future in some areas as well. Whatever area it is, lean on God. Search His Word. Learn His character. It will be worth all to learn more from our God, Sister!
"Blessed be the Lord my strength~
"My goodness, 
& my fortress;
my high tower,
& my deliverer;
my sheild,
and he in whom I trust.

"LORD, what is man, 
that thou takest knowledge of him!
or the son of man,
that thou makest account of him!"
~Psalm 144:1-3
Sarah