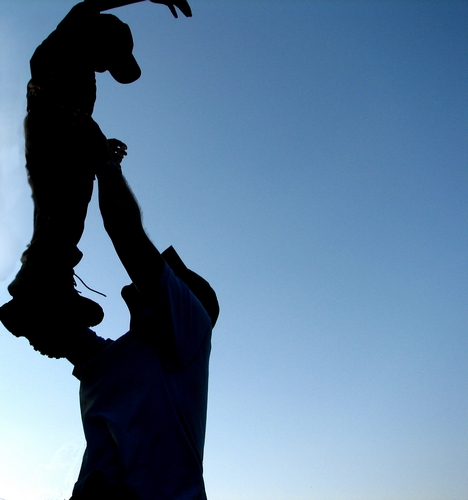 Do you realize what a great influence you have in your brothers' lives? This influence will impact their future wife and children, and those they come in contact with as adults. It humbles me to think the traits my brothers see in me is chiefly how they will think of godly womanhood, and also what they someday will look for in a wife. My life is also helping to mold them into the kind of men they will become, either good or bad. How sobering! What a responsibility we carry as sisters.
"Be strong and of good courage" (1 Chronicles 28:20). We want our brothers to be manly and courageous, ready to face the battles in today's society. Our culture tears down the masculinity of men, discouraging them from standing up to their duty. As daughters of the King, we should be gentle and fulfill our duty in order to encourage them to fulfil and stand strong in their godly role. We can encourage our brothers to be strong and manly by simply acting like a lady. Allowing them to open doors and thanking them with a smile encourages them to be gentlemen. Serving them and caring for their well-being encourages them to, in turn, care for and protect us. We should encourage and support our brothers' leadership and advice. Even if they are our "little brothers," we can support and respect their role as men. In the same way you honor your father when he comes home from work, greet your brothers when they have been away as well. We also should be sure to encourage our brothers when they display manly traits.
Always thank them for standing up for and protecting ladies. We should encourage their chivalrous acts and kind treatment, but never take their deference for granted or demand it. It is an honor and we should graciously thank them for their kindnesses. We also should always accept their offers to help us, such as carrying a load or helping us out of the car. If we refuse it, we are discouraging their manliness and their desire to be kind to ladies as a "weaker vessel."Though I am sometimes "in charge" of my younger brothers, I can still ask for their opinions, seek their thoughts on a topic I am writing about, or include them in a project. In this way I encourage them to be responsible and masculine.
I have often found it a blessing to read books together with my brothers, or to recommend good books to them that I have read. We always have fun talking about the story after they have read the book. Encourage your brothers to read profitable and worthwhile books. Our brothers aspire to be like the other men that we admire. As they see you respect a godly character trait in another, they will want to display that trait. They desire your admiration! So encourage good examples in their lives. For example, if you are reading about George Washington, point out good character traits he portrayed. This will encourage them! Yet do not push them or compare them to other people. Be patient, invest, encourage, and pray for them. I have encouraged certain traits in my brothers for many years, and they are now growing in those areas. It has taken a long time – nothing comes immediately – but it is so worth it to see my brothers grow in these godly traits. I am so awed and grateful! If you feel like your brothers never pay attention to the way you treat them, or they scoff you, do not despair. As they see you treating them with respect, they realize you are sincere and care about them. When our treatment towards our siblings change, you can always be assured that they will notice and eventually change their actions in return. Treat them as men and they will desire to act as men. We must be patient, and never hurry or belittle them.
Show your brothers they are important to you. Strive to show an interest in the things they enjoy doing. Ask your brother to teach you how to skin the racoon he just trapped, even if you naturally shrink from the task. This has been an interesting project for my brother Nathan and I! Take time to listen about his latest adventure, help him in school, and offer encouragement as he learns new skills.
Your encouragement will be a great blessing to your brothers as they are striving to grow into manhood. Use your god-given influence in your men's lives for His eternal glory!
"But charge Joshua,
and encourage him,
and strengthen him:
for he shall go over before this people :
and he shall cause them to inherit the land
which thou shalt see."
~Deut. 3:28

SHILOH » Incredible Sarah! My Daddy is always reminding me that the way I treat my brother is the way I will treat my (Lord willing) future husband. It's encouraging to read an older sister's thoughts on how to encourage her younger brothers to manly traits—something I need to work on more! I always enjoy reading your monthly Thoughts!

____________________________

ASLHEY CALDWELL » Sarah, I can confirm that the way one's brothers act is a direct relation to how their sister treats them. For many years I was quite "independent" and treated them very badly. Unfortunately, I was under the wrong impression the my brothers were the ones treating me badly, and that I had to "get back" at them. =) As a young teen I realized my error and started treating them as I would like to be treated if I were in their place. It took time and many "bitten tongue" moments on my part, but it certainly worked. My brothers are my best friends now.

____________________________

SHILOH » I just wanted to thank Ashley for sharing her testimony! This part "Unfortunately, I was under the wrong impression the my brothers were the ones treating me badly, and that I had to "get back" at them. =)" Really spoke to me! Thank you so much, Ashley!

I thought maybe for a future MT you could write about what you think about young ladies going to college and along those lines… Something like: " Thoughts on What to do Once You Graduate"…

____________________________

MAGGIE B. » Hello Sarah! I just wanted to add my thanks for this 'monthly thought' about how we ought to treat our brothers. I have often struggled with this too…all your thoughts really encouraged me. Thank you!

____________________________

SAMANTHA P. » I really appreciated your monthly thought for July, about encouraging our brothers! Good point!