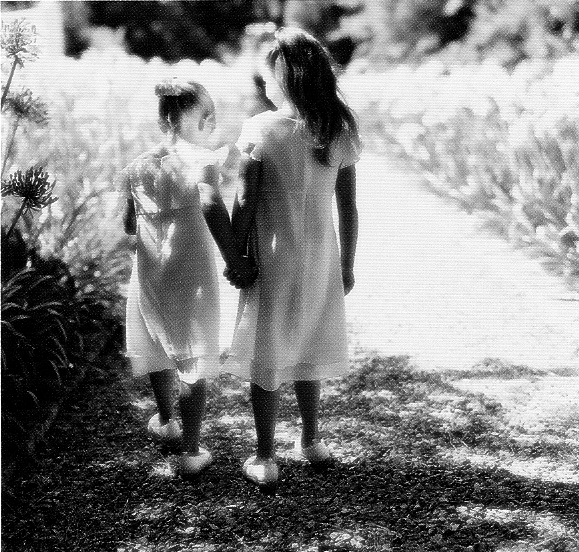 In a peer-dependant society, we have learned to rely on those who are our own age. We often overlook those who may be left out, needy, "too young," or needing encouragement. But in a Biblical covenant community, the younger go to the older and wiser for a godly, mature example and for godly advice. "The aged women likewise, that they be…teachers of good things; That they may teach the young women to be sober, love their husbands, to love their children, To be discreet, chaste, keepers at home, good, obedient to their own husbands…" (Titus 2:3-5) We must seek to exhort our younger sisters to follow in the Lord's path as a keeper at home and godly woman.
I have been so impacted by several older young ladies who have taken their time to befriend me. Their lives have been examples I now strive to follow, even through the great age differences between us. The influence we have on those younger than us is so great; we often underestimate the witness and godly example we could be for Christ's glory.
Watch for opportunities that God may send your way to bless a younger girl. Take time to talk with them or write them a note. Invest in their life; share with them what God has been teaching you. Do not "limit" your friendship because they are younger. I can not tell how many times I have felt left out of someone's life, because they think, "You are too young." It hurts so much to be looked down upon by those I admire. We all were younger at one point! "Let no man despise thy youth; but be thou be an example of the believers, in word, in conversation, in charity, in spirit, in faith, in purity" (1 Timothy 4:12).
Let us reach out and bless those around us! You may never know realize how much you have blessed someone by using the influence that God has given you for His glory.
Shiloh, a young lady who also feels a burden for her younger sisters in Christ, has shared her heart on this subject.
~SarahLee

Shiloh Strang:
"Have you ever noticed how younger girls always look up to those girls who are older then themselves? Little girls always want to be accepted by older girls, they want to spend time with them, and most importantly… they always look up and imitate those who are older then themselves.
"Lately it seems that the Lord has brought many little girls into my life. So, being the eldest in my family, I have recently been dwelling upon this subject.
"One major lesson taught by our parents is that the older siblings in our home are to be godly examples to our younger siblings. We can either be a good influence or a bad one. Just through the simple example of our actions we are helping shape our siblings' lives. The Lord has given big sisters a special role. Not only are we an example to our younger siblings, but also to those whom the Lord has placed in our lives—no matter whom they are.
"As I wrote earlier, I have recently been thinking about the many examples I set forth to the younger girls in my life. I used to always wish I had young ladies in my age category to fellowship with instead of the little ones God has placed in my life. I used to view younger girls who visited as my younger sister's friends who came over just to play every now and then. I never thought too much about the kind of example I was to demonstrate to them. I must note, though, that I do believe it is a wonderful blessing to spend time with older young ladies, but the example we set and our friendship to younger girls is very important too! I have been learning to delight in being with my younger friends and to have an enjoyable time listening and conversing in their conversations even if it's just about what kind of food bunnies eat. Our actions, our examples, our words, and simply just taking the time to listen and encourage them will always have a huge impact on their lives.
"I have found that when I spend time edifying and encouraging the young ones the Lord has placed in my life I in turn am blessed. Often I learn something I never knew before, sometimes a younger friend will open up and share stories from her life with me, and sometimes I am surprised at the blessing of seeing the effect older girls have upon the younger ones.
"In my life especially and in my siblings' lives as well I can see older people who have encouraged us. I have enjoyed watching my brother imitate godly manhood as he follows after his godly role models. When I was young I chose my role models and have since looked up to them and tried to follow their godly examples. I am overjoyed when I see my role models living godly lives and when I see the blessings God sends their ways. It is my hope that someday the blessings the Lord sends them will someday become my own… Today, as I have grown older I have begun to see the role model I have become in the lives of some of my little friends. It is sobering to think about the effect I may have upon multiple lives and perhaps upon generations.
"I would like to end by exhorting you to strive to encourage, edify, and be an example to those younger then you. Remember the example Jesus has given us through His life! May we also grow each and everyday to be like Him and become godly examples for others."
Shiloh A. Strang is 17 years old. She lives with her family of seven in Boring, Oregon on a small farm where they raise chickens and goats.
"Wherefore comfort yourselves together,
& edify one another,
even as also ye do."
~1 Thessalonians 5:11
____________________________
2 Comments »
SAMANTHA P.» Thanks for the monthly thought! I agree that investing in our younger sisters is very important!! Thanks to you and Shiloh for sharing!
____________________________
SHILOH » Sarah, It was such a blessing for me to write my testimony for the MT. You wrote an incredible introduction. It's so sobering to really think about the effect I may have on someone's life and then on future multi generations! Amazing and yet so humbling and such a weight to carry for the LORD! Press on! ~Shiloh