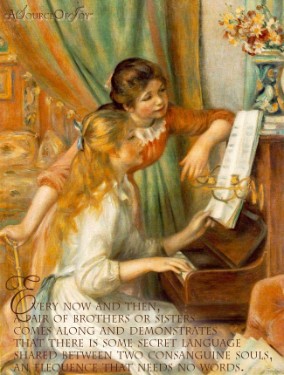 "A friend loveth at all times, & a brother is born for adversity ."
~Proverbs 17:17
Sitting by a window in her favorite chair, sunlight streamed in onto the pink stationery. Lily's pen briskly glided over the paper as she related her family's latest news to her best pen-friend. As she wrote, her little brother came stomping in from his play and ran over to Lily, breaking the peaceful silence. "Lily, I made the biggest tree fort! Come look, and take a picture of it for me!" Lily looked up from her paper, still deep in thought, and brushed Johnny aside, "I'm busy right now. Don't interrupt! I lost my train of thought. I'll be out later." With a little more persuasion, Johnny left the room.
But be assured that this little brother will not come many more times to tell "big sister" about his news…and she will never become his confident if she continues to ignore his cares.
As Sue was talking with some friends, she kept a close eye on her little siblings romping about in the fresh grass. Occasionally, her little two-year-old brother waved his sand shovel, looking over at his big sis. She cheerfully called, "Hey, what do you have there?!" and he giggled. Joining in the conversation again with her friends, she would add a bit of input, but always keeping a watch on her little charges. As her friend Flossie showed her some pictures from a recent trip, Sue noticed her three-year-old sister fall from the swing. "Oh," she jumped up, "Are you ok," she called as she went to her sister's rescue. "I cut my finger!" Little Bekah responded, looking fearfully at the blood. "Oh no, let me see. Ouch! Let's go fix it up with a band aid!" Calling over to her friends as she heads inside with Bekah, "I'll be back in a bit!"
Rachel was watching things at the house while her mother and a few siblings went to town. She tidied up the house, folded the laundry, and talked with her siblings who were at home with her. Soon, the van drove in the driveway and she cry sounds through the house, "Mom's home!" As everyone rushed in, her siblings ran up to Rachel, squealing and climbing on her. "Guess what!" They announced their news and told the events that happened on their short time away from her. "Oh, how fun! Tell me about it!" Rachel interacted and inquired about their news, obviously enjoying their return.
The first example is my natural reaction to give my siblings when they come rushing in with their big news. I do not like to be interrupted.
Yet, as I have witnessed the two last example stories, the Lord has convicted me that I need to show more love and concern for my siblings! I need to serve my younger siblings, take time to listen to their news and latest projects, interact with them when they come to tell me something they are doing. The Lord has been showing me how important it is to stop what I am doing, look at them in the eyes, answer them, listen to them, and help them if needed.
Jesus Himself was a servant of mankind, and He stopped to bless the little children! "But Jesus said, Suffer little children, and forbid them not, to come unto me"(Matthew 19:14). We should too take time to stop and listen to our little sisters tell about her new baby doll, our brothers' newest Lego truck invention. We should not only listen, but also interact with them–even if we know nothing about building cool Lego trucks with our brothers! We need to show our siblings that we are there to hear them and demonstrate a desire to share in their interests.
It is easy for me to get in the habit of thinking my siblings are there to help me, since I am older; but just when I rebuke them for not honoring me when I ask them for something, God reminds me that I should instead be serving them! I, being the elder, need to set an example for them that glorifies the Lord. Jesus served the most humble on heart; I must follow His example.
Not only our caring heart will be a blessing, but our words to our siblings also have a great ability to bless their lives and encourage. Something I have been remembering lately is that something little to me may mean a whole lot to my younger siblings; one smile or a few words of encouragement could brighten their day and mean more than I think. A few extra minutes to write a note to a sibling means more to them than it ever took us to do the act! We must be careful in our actions and words, because they can also hurt very quickly…every word should be weighed. An especially harsh word for some failure or a few wrong words such as, "What is wrong with you? You've done that two times already today!" can hurt more than we ever mean to. You can probably think back right now and remember when someone hurt you with just a few careless words that greatly wounded you. Let us remember how much influence we carry with our actions and words to our siblings.
Do your siblings cherish being around you? Are you the sister that your siblings miss when away, or are the glad for a few minutes out from under your critical eye? Are you their confident—are you "the family daughter"? Let us be sisters of love and care.
Sarah Bryant
6 | C O M M E N T S :
Ashley Caldwell: Usually telling someone to wait is not even an option for me. The value of listening to little ones/siblings was impressed upon me long ago, when an elder girl listened to me while my family was at her family's house, but after the visit never expressed an interest in me again. Oh, it burned. I will always remember that time when I deal with little ones/siblings. I will always remember that it gives a glow of joy to little ones, to have a much-looked-up-to girl spend time playing with them and patiently answering their questions. Writing letters and such will ultimately not matter, but one who invests time into others will be richly rewarded.

~~~

Sarah Bryant: Thank you very much for the encouragement and insight there, Ashley. How much we older girls inpact those younger…something that is vital yet sometimes in everyday life hard to remember. I also can recall many times when I have felt rejected by other girls and how that hurts. But as a sister we must be on guard even more constantly. Siblings are around us all the time and patience truly is a virtue.


~~~

Shiloh S.: Hello from the eldest in the house and also the big sister! :D Wow! The last paragraph of questions are really thought provoking! I know at times I am like Rachel and Sue, but then yes, there are times when I've been like Lily… It's amazing the tiny things I've done for my siblings (like putting the cat away for a sister). It was an easy passing by task for me to do, but it was such a blessing to her! She sent me a Thank you note in return and in the end I was blessed back! I can see especially in my life how I need to take care of my actions and words (especially words!). Simple little statements can hurt someone deeply. One of the last questions: do your siblings cherish you? I think that's something all of us big sisters really need to look at… Do they enjoy being around us? Are we kind and loving to them? Are we a godly example? Being a big sister has great God given responsibilities! I pray I will live up to them as will all other big sisters! Press on dear sisters in the LORD! ~Shiloh 

~~~


Samantha P.: I agree with Sarah, Ashley, and Shiloh! We so often overlook the eternal impact that time spent investing in our siblings' lives has. You never know how much longer you have with your siblings! Don't let a day slip by without telling them how much you love them and care for them. It shouldn't just be words, though, show them by your actions!! Take the time to listen to them and play with them ~ it isn't something you grow out of. =) It is so easy to say, "I'll spend time with them another day… I have plenty of time… after all, I live with them!" And yet "you do not know what will happen tomorrow. For what is your life? It is even a vapor that appears for a little time and then vanishes away." (James 4:14) None of us know how much longer we have on this earth~ let us remember what is important while we are still here! Let us encourage, strenghten, and uphold our families as their corner-pillars.

~~~

Bekah: Since I don't have siblings, I don't completely feel what you do. But I do know that it is just as important to interact with your parents as with brothers and sisters! They can become close friends ~ I think my Mom is like my best friend! We talk about everything and enjoy doing things together. Even if that is only peeling carrots. :) I encourage you to talk to your folks- if they don't mind you chattering on, do so! :) If they don't have much time (like my Dad), then have them write short notes for you when they do have time! I leave quotes for my Dad on his Bible now and then, or pack treats in his lunch. He leaves notes on the table for Mom and I. :)Simple but special! Love to each of you, Rebekah

~~~


Sarah: Rebekah, what a wonderful idea! So true, our parents should be our best friends as well. I am blessed to hear and see your relationship with your parents. It is vital to be able to share with them everything and be trusted by them. Thanks for the thoughts for us!!

~~~


Shiloh: I really liked Samantha's thought on this subject. Especially the part about not letting a day go by without remembering to remind your siblings that you love them… Bekah & Sarah, what interesting thoughts! I think our parents should be some of our best friends. Thank you for sharing your thought – it is an encouragement to continue to bless others!

Bekah: I had yet another thought on relationships with our parents. It helps to let your parents know what you are thinking and a way to do this is to actually talk to them!! Even if it is only simple things like gardening and building a shed, you can understand each other better if you taken the time to communicate. My Dad and I don't often talk (we have what you call a silent understanding – comes from being a LOT alike :)), but my Mom and I are always having discussions! We usually end up being sidetracked from what we are doing. :) And if there are any parents reading this, to you I want to say, take the time to talk to your kids, and let them tell you what they are thinking! How are you going to ever understand them if you don't listen to their thoughts? God bless y'all!