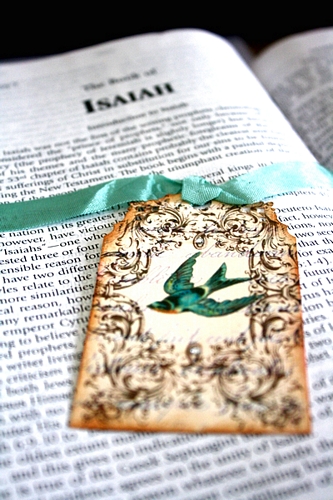 Time flies – I can't believe that December has already arrived! At the end of each year, I like to reflect on the previous months and events. Something that is always evident in days gone by is God's hand and plan unfolding. I am awed to see all the Lord has done!
Each New Year's I make a list of goals to work toward in the coming year. I can't say how much of those goals I actually accomplish, but it is always encouraging to read over the goals at the end of that year and see what the Lord has done in my life, and the prayers He has answered.
One of the goals I made last year was to memorize Scripture. I have known for many years that I needed to hide God's word in my heart, but just did not make the commitment to do so. Finally, one day I just told myself I was goingto do it, and decided to make myself accountable to someone and memorize with them. I asked a mature friend if she would join me, and she agreed. As we have memorized Titus together, our friendship has been strengthened and I also have been pushed to be diligent with my memorization! Actually I have found that memorizing is much easier than I thought it would be. The biggest blessing is having these verses in my mind to dwell on during the spare moments throughout the day.
Here are some ideas that I have found helpful in memorizing Scripture:
~Pick a few verses or even phrases to work on at a time. Each morning during devotions, study the entire passage, but then specifically pick out the next phrase that you need to memorize, and break it down. How many phrases (divided by conjunctions) are in that verse, and are the phrases in an special order that would assist you in remembering it? For example, if there are three ways we should live in the passage I am currently working on (Titus 2), how can I remember exactly what order they are listed? Are they listed alphabetically? In verse 12 they are actually the opposite – backwards: soberly, righteously, andgodly; and all three end in –ly. There are several ways to make a phrase memorable – even just by repeatedly studying the order of the words in the phrase.

~Write the verses that you are working on on a sticky-note and post it on your bed, mirror, desk, or other often-used place. This will help you memorize how it looks, and also serves to help other family members memorize them with you!

~Recite the verses while driving, resting, folding clothes, or going to sleep – any time you need something worthy to think about!

~Listen to the passage read – recordings are available, often for free, in many formats.

~Be faithful. Do not put it down! Make a habit each time during your daily devotions and maybe another time of day as well to work on Scripture memory.

~Be accountable. Memorize with a friend or family member, and regularly check in with them and tell them how you are progressing.
If you have any tips to share, please do! I am learning and want to hear what works for you.
I want to encourage you also to evaluate your life during the closing of this year – choose about three areas that you desire to grow in during 2010. I would love for you to share the goals you set for the coming new year with me! Let us spur one another on in the ways of the Lord.

"I have one deep, supreme desire−
That I may be like Jesus.
To this I fervently aspire−
That I may be like Jesus.


I want my heart His throne to be,
So that the watching world may see 
His likeness shining forth in me−
I want to be like Jesus."
-"I want to be Like Jesus" by Thomas O. Chisholm
____________________________
2 Comments »
BETHANY WARD » Sarah,
What a beautiful article, I to have often known and wanted to memorize scripture, but I never ended up doing it. I am so glad that you have made this calendar available, and I know that with God's help I will be able to memorize 11 Corinthians with my sister. Thanks so much!
Bethany
P.S. Here are some things that I hope to improve in the next year:
1. Memorize more scripture
2. Be more like Jesus in every way possible
3. Be more of a caring gentle sister and a great example as well.
May God Bless!!!
SARAH LEE » Bethany, Thank you very much for sharing your thoughts. I am so glad that you are now going to work on memorizing Scripture! I know the Lord will abundantly bless your faithfulness in that. Also, I am so thankful you shared three goals for your life in the new year! Those are wonderful areas that I think each one of us will always have to grow in. In fact, those were some of my goals for the past year. May He bless you this new year!!
JENNY FLORIO » I enjoyed reading your monthly thought. Memorizing is so important! I feel such an urge to memorize God's Word when I consider all that is going on in our government and wonder if one day I will not have such easy access to the written Word as I do now! I have been listening to the Bible on CD lately and that really helps with memorizing. I am working on memorizing John right now, going rather slowly through it. It is such a special book! Lately I have been meditating on the verse, "The Word became flesh and dwelt among us, and we beheld His glory, as of the only begotten of the Father, full of grace and truth." How amazing to think that He came truly dwells among us, that He, very God, desires to be with US! I can't even comprehend it… He is an amazing God!
SARAH LEE » Jenny, I appreciate you sharing what Scripture memorizing "projects" you have been working on as well. You shared some very good ideas for memorizing – I also have found it so beneficial to listen to the Bible read (I use my MP3 player and often listen to the passage as I go to sleep). One of the greatest things about memorizing Scripture is that it is always in mind to abide on.