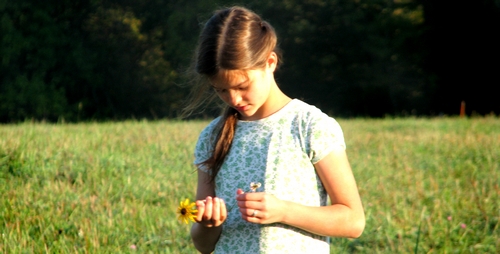 Have you ever been blessed by something very simple?
Recently, I received a very special card in the mail. When I saw the return address label, I squealed in surprise at who it was from – someone who I would have never, ever guessed would have thought to take time to write me! The card even more special because of the detailed, thoughtful, and sweet note written inside.
This young lady is several years older than I, and she is a wonderful example of a daughter whole-heartedly supporting and benefiting her family's business. We have had the opportunities to talk on several occasions, but I thought, from observing her incredibly energetic life, that she would have never thought twice about me – let alone take time to write! Our lifestyles are very different and we do not have very much in common…so I thought.
Yet as I pondered this girl's thoughtfulness, I realized – why should each of us not take the time to bless others through remembrance of their special events, birthdays, or interests? Shouldn't each of us reach out extraordinarily to others around us, out of sincere concern and thoughtfulness – and even more so, to bless others for the cause of Christ?
The thoughtfulness my friend demonstrated to me in this card really struck home — I am not a thoughtful person. I am naturally so self-centered! I need to open my eyes to someone besides myself and listen to others and care for them. When they talk to me, I should not pick out the topics that I enjoy hearing about, or only talk with those who I feel like I will benefit from. I should take an interest in everyone – no matter if we have any thing in common or not! – but simply care about them, and their interests.
A profound gift of thoughtfulness doesn't even have to cost money – not even a postage stamp. Our lives of thoughtfulness can be shared with anyone who has contact with us.
Have you thought of the gift that every single one of us can give everyday – it never costs us anything? We can do it all day long and the blessing it bestows is unlimited. It is called a smile. I am not Ms. Smiley personality myself, but I have realized what a smile can do to brighten someone's entire day. When you get up in the morning, if the first thing you see is a smile on a siblings' face, how do you feel? How about giving our family our smiles of acceptance?
Or what about a kind word or two? "Good job!" "Well done!" "Keep it up!" or more detailed praises are such a blessing given to our family or friends. Praise goes such a long ways in the encouragement and lifting of spirits.
Or when chatting with an acquaintance, make a point to remember their interests and things they talking about (not just, "That's nice. I need to go now."). Later if you have another chance to talk with them, remember what they said and ask them about it (their interests, a trip they were taking, family member that was sick, or anything else from the conversation). My mom is always very good at this – she remembers things that are going on in other's lives that I would have never remembered – and she always remembers to think to ask about these things whenever she runs into them again.
Why not remember an acquaintance's birthday? Send a little note, even if you don't know her well, and you may be surprised at how blessed she will be by such a simple act of thoughtfulness. This can be an incredible ministry that any girl can do – right from home!
There are many simple little gifts that can be given as well – what about that little girl at your church whose seventh birthday is next week? Take her a little gift and birthday wishes. How about a friend who recently graduated…or an elderly lady who is recovering from surgery…or a sick friend…a pen-pal who is going through a trial…whatever the occasion, timely, inexpensive gifts can be given to bless others. Give gifts on the "no occasion" – just an "out-of-the-blue" thinking-of-you gift.
Here are some ideas to get you thinking along the lines of special gifts to give others. Depending on the receiver's interests and season in life, customize your gifts to specially fit them and their situation.
Handmade Candle or Soap » If you have learned to make either of these items, they are always a useful and enjoyable gift. These are also great to give to those who are on a diet or cannot eat sweets.

Basket with Cookies or Freshly-Baked Bread or Herbal Tea » My sister Rachael reaches out to others through her baked goods – almost anyone loves to eat and enjoy a cookie!

Freshly-Picked Flowers (wild flowers are lovely!)

Handmade Bookmark » One friend sent me the prettiest bookmark which I use in my Bible every day. Personalize it for a special gift.

Framed Pictures » Be creative with this option and make a tribute for your special friend – print a Scripture or her name meaning on it – or take a photo of something she enjoys and frame it

Bread Covers » These are easy to make and very useful – if your gift is for a maiden, this is a wonderful "hopechest" addition. You can embroider her name on the corner to make it even more special.

Stationery Set » If your receiver is a writer, make a matching hand stamped stationery and envelopes set – and personalize with calligraphy

Gift Subscription » Give a gift subscription to an encouraging publication – this is a gift that continues to give throughout the year!

Inspirational Book » Give a Christian classic such as Stepping Heavenward, Pilgrim's Progress or Hind's Feet on High Places. If you can find these on sale in hardback, be sure to stock up on them to give as lovely gifts!
These last six ideas are easy and inexpensive to mail for friends far away. Share your ideas – what do you give to others as a little blessing gift? How have you been blessed in the past by something so simple yet thoughtful?
Let us reach out as lights for our dear, loving Savior, Who cared for everyone's concerns and needs – the dirty, poor, sinful, weak, sinners as well as the rich and powerful sinners. He genuinely loved them – so much that He gave His life for them. He gave His life to all sinners – which includes me. What less can I do, as His servant?

____________________________
6 Comments »
______________
SAMANTHA P. » Thank you for writing this, Sarah! I agree, thoughtfulness is such a beautiful ministry. Often times, just giving someone a smile can go a long way in blessing them. It reminds me of a song that a friend taught me several years ago. Here is the first verse of the song: "Every day in this world there are people that I meet; I walk up, shake their hand and they see… the kind of person that I am by the smile that I wear, I am blessed by the smile Jesus gives me!(Chorus) A smile, a smile, will make this life worthwhile, a smile, precious smile Jesus gives me. And everyday, I know up to heaven I will go, where I'll thank Jesus for the smile He gives me!" I have been surprised by the people in my past who I barely knew and yet they told me later that they were blessed by my smile! It is encouraging to see God working through what we may consider 'a very small thing'. I encourage you to take the time to bless someone today! Think of ways that you can show kindness to others and ask the Lord to use you as His humble instrument of grace! May all of you be blessed richly in this new year!!
______________
SHILOH ARIEL » Thank you for the wonderful MT, Sarah!
Yes, I too have been blessed a letter from older sisters in Christ. Two dear sister in Christ (both who are now married) wrote me and it blessed me so much to think that they took the time to write and encourage me!
The Lord recently laid it on my heart to encourage those who are younger then I. Instead of always fellowshipping with my pears I need to seek out younger girls and encourage them in their walks with Christ too. The nine ideas you gave are wonderful and sometimes they can open doors to witness to those who may not have a strong walk with the Lord. Another idea is to give someone a quick phone call. Especially, if you don't see them often or it's a relative who lives in a different state. I try to remember to occasionally call my cousins and also try to remember to call on their birthdays as a way to bless them!
One other thing is encouragement. About six years ago I met a young lady who really encouraged me (just with her words etc.). I always remembered her and about 1 ½ years ago I saw her again (this time married and with two children) and she was the same encourager as well as such a godly example.
Thank you for the MT and I love the sneak preview of your new website design and I'm looking forward to seeing it when you finish!
P.S. Your letters are always an encouragement too. =)
In Christ,
~Shiloh Ariel
______________MAGGIE BULLINGTON » I was encouraged by your January "monthly thought." How true that a small note or package can brighten some one's day! I was really struck by your point about a simple smile. We have so much to smile about – just let the Lord shine through to everyone around you!
By the way…I love the new format!
______________
SARAH LEE » Samantha, Shiloh, and Maggie, Thanks so much for sharing. Samantha thank you especially for the encouragement regarding smiling. What a good challenge that is to be a light and blessing for Christ through that ministry. Shiloh, a phone call is also a wonderful idea. Maggie thank you for your sweet note too – I love hearing from each of you!
______________
BRIANNA » What a truly beautiful post, Sarah! I agree 100%! I'm afraid I don't have any further suggestions for ways to be thoughtful to others because everyone else has listed all the ideas I myself would have suggested. :-) However, I do believe it is important to keep in mind that sometimes just "being there" is as important as random acts of thoughtfullness, especially when it concerns close friends and family. Many people will take the time to do out-of-the-blue acts of kindness, but not many will put out genuine effort to be a loyal friend and dependable, steady encouragement to those around them. Would it mean more if a person did a few sweet acts of kindness to you, took an interest in your life, etc. and then pulled out of touch shortly thereafter? Or would it be of more value if that person were always there for you, through the trials and blessings of your walk with Christ? Continually reaching out to certain family members/friends can sometimes have a larger effect than randomly reaching out to numerous people which you may not have too much contact with in the future. I'm not downplaying the importance of doing thoughtful things for others (especially when witnessing to unbelievers), but I am saying that kind acts need not always end there. ;-)
______________
SARAH LEE » Brianna, you had some very good points – thank you for your input. Being a faithful, constant, and true friend is something rare to find, but in Christ, we all should be that way to our Sisters in Him. Thanks for writing.
______________
ELIZABETH » Hello Sarah!
Thank you for the encouraging post! I always enjoy reading your monthly thought! I especially enjoyed reading the list of ideas for simple gifts to give young ladies. I recently took a sheet of pretty paper and made sections of the months and then wrote each girl's name in our church under the month of her birthday and the date. I try to make a handmade card on each young lady's birthday. Sometimes I am very busy and don't have time, but the sheet of birthdays has been very helpful in remembering birthdays.
I enjoyed seeing your idea of a handmade, pretty bookmark. Perhaps I will add a handmade bookmark to the card with their name, what their name means and a Bible verse on some pretty paper.
My "The King's Blooming Rose" came yesterday in the afternoon and it is such a blessing! I walked out to the mailbox, hoping to see a shiny pink cover…and there it was! I am enjoying it so very much! And the theme is wonderful! I have three younger brothers, so I am enjoying the articles very much! KBR is such a blessing to me when it comes in the mail! Thank you!
The new website design is lovely! Also, congratulations on winning Jasmine's giveaway…you will have to tell us how the movie is! Return of the Daughters has been a great blessing to me, so I look forward to seeing the new movie.
Sorry for such a long comment! :)
Blessings, Sarah!
Elizabeth
______________
SARAH LEE » Elizabeth, good to hear from you!! What a ministry you have there in writing birthday cards for the ladies in your church. I too have done that in the past and find it incredibly rewarding to bless others like that. So glad that KBR arrived as well and thanks for your congratulations for winning the giveaway. What a surprise it was to us!
______________
T.B. » Thank you all for posting such encouraging thoughts! Sarah, thank you for the ideas. I'm sure my friends will be benefiting from them. Thanks again!
______________
SHILOH ARIEL » Hi, I just wanted to comment and say that I enjoyed reading Elizabeth's thought. Years ago I sent a birthday card to a girl (who attended the same church) and we became pen-pals. What a blessing! ~Shiloh