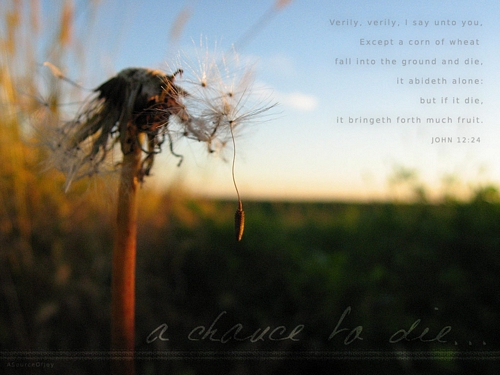 In the midst of the busy schedule of daily life, it can be easy to loose sight of our ultimate goal, which as daughters of the King, is glorifying Christ and doing His will.
Life has become increasingly busy for me during the last few months, with projects to complete and deadlines to meet. My mind has become continually occupied with these projects, always on the race thinking of these things that need to be done and trying to mentally work out problems. In essence, my mind has shifted from the peace and steadiness of Christ, to my surroundings and troubles.
Then the Lord broke through my thoughts and quieted my soul. I felt Him asking me, "Are you doing what truly matters? What are you focusing on? When you are 70 years old, will you look back in regret at how little time you spent during these years pouring out your soul into the only thing that eternally matters – My will?"
Shamed, I bowed my head and admitted, "I fear that I someday, yes, I will see the opportunities I missed to invest in the most important relationship, and realize all the riches I missed that are found in Your quiet presence."
Life is fleeting and circumstances are unpredictable, but there is One in life that makes it worth living – God alone. He is unwavering, never changing, never rushed by approaching deadlines, never faced by complicated dilemma. He knows everything, and He can give me this same peaceful calm – if I will look to Him for that all-comforting grace. One glimpse of my Savior and the agonies He faced pales the stormy weather around my troubled spirit. He knows what I am facing. He has sufficient grace!
"Whereas ye know not what shall be on the morrow.
For what is your life?
It is even a vapor, that appeareth for a little time,
and then vanisheth away."
(James 4:14)
Sister, I have not found all the answers to this. I am still struggling through this issue, but I have begun to see that all these things that are going around me and the things that I am worrying about are truly so trite…so vain…so vanishing. My own goals seem so worthless, so self-centered, so carnal, when I take my eyes off His will. Yet, one look to the Savior, again, solves all the troubles of my soul, as I realize that seeking His pleasure, His glory, His approval, makes all my efforts entirely worth it, and all worldly goals utterly worthless.
"Let us not be desirous of vain glory."
(Galatians 5:26)
Though the projects that I am doing may be good in themselves, if I lose sight of God's will and how He wants to use these things – if I cease to do them for His glory and for my own edification – I will find that though these projects may be God's will for me, it certainly is NOT His will for me to sacrifice my relationship with Him in doing these things.
"Walk in wisdom toward them that are without,
redeeming the time."
(Colossians 4:5)
Later in my life, I want to look back and see that because I focused on God's will rather than the World's approval, the Lord was able to use my life for His glory and my refining. I want to know that I looked to Christ alone for my reward and my motivation. And He was enough.
Look to Christ! Jesus is the Prince of Peace…stop and rest in Him. Let the cares of the world fade away, and with His strengthening peace filling your soul, you will be enabled to face the battles and troubles around – in His strength.

____________________________
2 Comments »
MAGGIE B. » I Just wanted to drop you a note to tell you that I really appreciated your February "monthly thought." Actually, this is something that I have been thinking of over these past few weeks – focusing our whole life on the Lord.
Sad to say, in past years my life was mainly divided into two parts…my daily life and my walk with the Lord. I'd get out my Bible, hurriedly read a few verses, so I could get back to my busy life and feel good that I had "spent some time with the Lord." But I am beginning to realize in a completely different way that my WHOLE life belongs to Him. He is our Heavenly Father – read His word, talk to Him through the day, ask His help with your projects, share Him with others, love Him always! Thanks again Sarah!
_________________
SAMANTHA P.» Thank you, Sarah, for this month's "thought for the month"! It is something that I have been especially working on this month, namely to let nothing to take the place of my Savior in my life. It is so easy to get wrapped up in the things of this world, yet we are told, "be anxious for nothing". God has loved us with an everlasting love, yet how often I do not seek to put Him first in everything! "Jesus! What a friend for sinners! Jesus! Lover of my soul, friends may fail me, foes assail me, He, my Savior, makes me whole. Hallelujah! What a Savior! Hallelujah! What a Friend! Saving, helping keeping, loving, He is with me to the end."
_________________
SARAH LEE » Maggie and Samantha ~ thank you both for your thoughts – it is encouraging to hear that the Lord has been teaching you both similar things. Maggie I agree that it is so easy to not live daily life with Christ in and transforming every moment and action. But He should be because He is our best Friend! Blessings to you both.