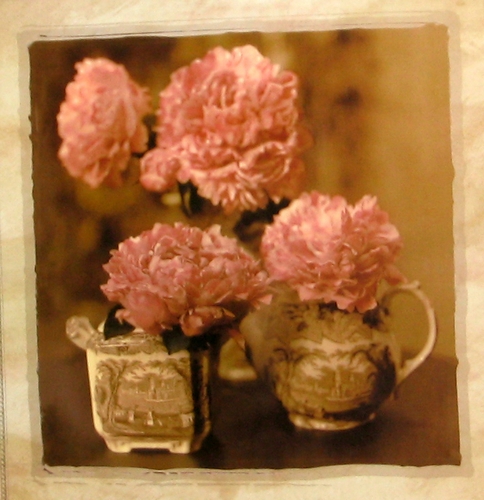 As I shared last month, the Lord has been showing me how my focus is too easily swayed from seeking the eternal Kingdom of God. I found myself facing the fact that I had lost the close, constant communion and side-by-side walk with my Father.
A few weeks ago, the Lord showed me how to practically renew my walk with Him and my focus on Him, how to claim His perfect peace for my weary and busied soul. I needed a "fast" – rather than a fast from food, a fast from "things" or projects.
It all started on another busy, hectic day. I was emotionally tired and my crowded mind once again pushed out thoughts of my Lord. Then a friend told me that she and her family had taken a break from some certain things for a few months, so that they could focus on the Lord's will for their family and renew their family relationships. I was struck acutely by this idea – I thought,What a peaceful and restful time they must have had together! I too desired some time just to "take off" and not be pressured by life.
Then the Lord showed me that I could do the same thing in my own spiritual walk. I could set aside many of the projects I am working on (aside from the inevitable tasks such as school work and chores – though that sounds good too, right?!) – just set aside a time to slow down. At first, the thought was a bit painful, because I see that these things need to be done and I felt that I needed to keep on top of these things so I do not get behind. But the more I thought about it…the more I realized how possible – and necessary – it was for me to do.
So I set aside an entire week to abstain from certain things – projects that had been occupying my mind, regular activites (which were not mandatory) that took time from my day. With this mentality, I woke up fresh the next morning – and I felt free! I didn't wake up thinking "I need to do ___ today…I need to email ___ today…I have ___ to finish this week." I woke up, savoring the moment, thankful for this season in life. My mind turned to Christ…I felt joyful and happy and restful. It was not the actual labor of the projects I had set aside which were weighing me down, but I found it was the mental energy and the focus which I had been putting into these things. With my mind free to think of other things – free to think and rest on Christ, my devotions did not feel rushed – not because I spent more time reading the Bible, but because my mind was not filled with all these worldly thoughts.
The day wore on, and I realized something else. I once more enjoyed – treasured being with – my family! I was patient with my siblings – even if my actions had not changed, I felt patient with them, because my mind was not preoccupied. I enjoyed helping them with their chores and talking and laughing with them.
In fact, the week I had taken off from these things proved to be very enjoyable. After the "week off" was over, I did not want to go back to these things, and so I continued to cut down the time I spent on those things. I have to guard my mind and when I feel "overloaded," I have to evaulate, What have I been feeding my mind? What am I thinking about?
Everything that I goes into my mind and how I spend my day – each contribute to the peace of my soul. Is it worth reading that extra book or figuring out that newest technological gadget or following that blog or fill my mind with not-so-profitable things, and in the process loose that perfect peace that Christ gives? These things may not be bad, but why are we doing them? What is our purpose? Is there another more important need we need to fill before we expand into other areas? We need to fill our mind with worthy things, Scripture, and prayer. We must meditate on Christ and slow down to think of Him all the day long.
The things of this world threaten to take our focus away from Christ – so wemust guard every thing we do, every thing we put into our mind, and every tool we use – make sure it is only for the glory of God – and we keep that focus in mind constantly.
"And the fruit of righteousness is sown
in peace of them that make peace."
(James 3:18)
Sister, for you this purifying process of the mind will be different. But whatever it takes, however hard the sacrifice may seem, no matter how pressing deadlines may loom, take the effort to renew your mind in Christ, to lay down those things that crowd Him out. Put a limit on the time and effort you will put into these things which may be causing you to stumble. Christ is worth it, and His glory should be our ultimate goal.
And this is the reward to those whose mind is stayed on Christ:
"Thou wilt keep him in perfect peace,
whose mind is stayed on thee:
because he trusteth in thee."
(Isaiah 26:3)
What a promise! May it be so in our lives.

____________________________
3 Comments »
MAGGIE B. » Amen!
Sarah, I really enjoyed your monthly thought…again! Thank you for supplying your ideas and houghts – they are so encouraging.
I was especially interested with your idea of a "fast" just to get away from the busyness of life and renew our mind to think on Him. Nothing should ever get in between us and our love for Him,because only what's done for Him will last! Thank you for reminding me.
_________________
SAMANTHA P.» Amen, dear sister!!!
_________________
JENNY F.» Thank you for sharing these thoughts, Sarah. I, too, want to sacrifice the lesser, earthly things to seek the lasting rewards of "the mind stayed on Christ." This is something I have been thinking about (feeling convicted about!) lately so this article was very timely! Thank you for the encouragement.