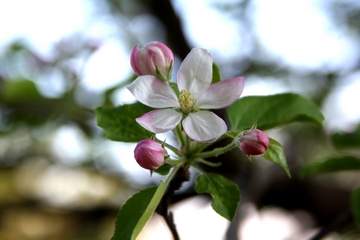 As I was sharing with a friend the lessons the Lord has been teaching me in the past few months, she said she was learning the same things about making the choice to focus on the Lord – even if it means blocking out sources that cause stumbling blocks in our minds. She shared, "I have really been thinking about the thought issue lately and it has really been interesting to come to grips with the concept that every thought should be taken prisioner and used in your own mind for Christ. I had heard that verse so many times, but it never really had that meaning to me." She offered to write down her thoughts, and I am very blessed to be able to share her article with you. Here is Maggie, with encouragement to those who are struggling to keep their mind on Christ throughout their days.

My Thoughts About Thoughts
by Maggie Bullington
"Finally, brethren, whatever things are true,
whatever things are noble, whatever things are just,
whatever things are pure, whatever things are lovely,
whatever things are of good report,
if there is any virtue and if there is anything praiseworthy—meditate on these things."
(Philippians 4:8)
In this age of technology and media, our minds are constantly encountering things that can so easily pull us off the path that Christ has set for us. Internet, books, movies and music, while they all have helpful uses, may also fill our minds with trash that will push our thoughts away from what should be the focus of our lives.
Lately, I have been feeling the Lord is trying to show me the importance of having pure thoughts – thoughts that will help me stay focused on the Lord and His will for my every moment. I'd like to share a few verses and things I've been thinking about.
2 Corinthians 10:4-5 says, " For the weapons of our warfare are not carnal but mighty in God for pulling down strongholds, casting down arguments and every high thing that exalts itself against the knowledge of God, bringing every thought into captivity to the obedience of Christ…" I have often thought about this verse and wondered how I could ever "bring every thought into captivity." The only answer – turn to Him for help. I have found it very helpful to wake up in the morning and pray something like, "Lord, please help me have pure thoughts through this day and help me to stay focused." Of course, there are some things that are just going to require our thought, like sewing a dress or making supper, but I also believe that it takes a conscious decision on our part to determine to take every thought captive. When you find your mind wandering, pray to Him for help, sing a song or hymn or recite a verse you have memorized to help refocus your mind on things that are praiseworthy. Also, try printing Bible verses and posting them where you will see them throughout the day.
Sometimes, we have a tendency to hold grudges and angry thoughts in our minds; this, needless to say, can cloud our walk with Christ. When someone wrongs you, make it up as quickly as possible to avoid storing these bad thoughts. Both you and the other person will feel better. A few days ago, a lady friend was telling us about her mother, who was having pretty bad health problems because of a brain injury. When she had an accident and her brain was injured, her personality suddenly changed and because of the type of injury, she could no longer control her impulses. Anger and problems that she had hidden away suddenly became evident, and she became very angry at times. Our friend ended this sad story by saying that we have to remember to watch our thoughts and the things that we do – storing up anger and bad thoughts can certainly be harmful in the long run to us and to those around us.
As mentioned above, internet, books, movies and music can all be harmful. When on a website or reading a book, always be sure that what you are reading isn't filling your mind with bad things. Always practice discretion in these areas. Once you have seen, read, or heard something unwholesome it is hard and sometimes impossible to go back and undo it, so we are better off not to expose ourselves to it at all. The Lord can help you to overcome something that you have trouble with, so never hesitate to come to Him about it. James 4:7 says, "Therefore submit to God. Resist the devil and he will flee from you."
If you also yearn to have pure thoughts, seek the Lord. Be careful about what you set before your eyes and make the decision to take every thought into captivity. He will help you overcome any problem you may be facing!
"Commit your works to the Lord,
& your thoughts :
will be established."
(Proverbs 16:3)
~Maggie Bullington
____________________________
1 Comment»

SAMANTHA AND REBEKAH. » Amen!
Thank you, sister, for sharing from your heart!! What a good reminder! It is so hard to take "every thought captive", but with His help we are more then conquerors! "What a friend we have in Jesus, all our sins and griefs to bear what a privilege to carry, everything to God in prayer!"