The gift of a godly mother is a priceless blessing, one which often is overlooked! While we should show our mom our appreciation and thankfulness for her sacrifices each day of the year, I am thankful for the day that is specifically set aside each year to honor our mothers for all they have done. Mother's Day is a special time for our family to ponder the blessings that have been given to us through the woman that gave us life. Sisters, I encourage you to show your mother how special she is to you. Thank her for sacrificing so much to raise you to fear the Lord. Our mothers truly are raising up another generation for the glory of the Lord, by the power of God! Let us bless and lift them up in prayer, especially this week.
Here are some ideas for ways you can make your mom feel extra-special this Mother's Day.
»On Mother's Day, make her favorite breakfast, set the table nicely, and arrange a fresh bouquet of flowers for a special touch

»Give her a certificate for an afternoon of babysitting, a night off from cooking dinner; a gift of completing housecleaning project, ironing the week's clothes, baking bread, or other chore

»Wear matching hair styles – arrange her hair special

»Write her a special card with 25 reasons why you are thankful for her and things that you appreciate about her

»Let her know that you are praying for her every day

»Sew a tablecloth or crochet some washcloths for use in the kitchen, or sew her a pillow, apron, or spring jumper

»Design a photo collage of family pictures with her favorite Bible verse on it, and frame it

»Buy a special mug and fill it with your mom's favorite beverage

»If your mom likes write note cards, make a beautiful personalized set of hand-stamped cards, with envelopes to match

»Weed and water her garden for her

»Praise and thank her for what she does; take time to notice all the tasks that she does daily and the special touches that only a mother can add to a day

»Most importantly, show her your love and honor through serving her with a cheerful, helpful attitude – all year long!

This is not a comprehensive list, by all means! So please shareyour ideas with us, so we can encourage, bless, and uplift our mothers together. How are you going to bless your mother this Mother's Day?
"Be ye kind one to another, tenderhearted..."
(Ephesians 4:32)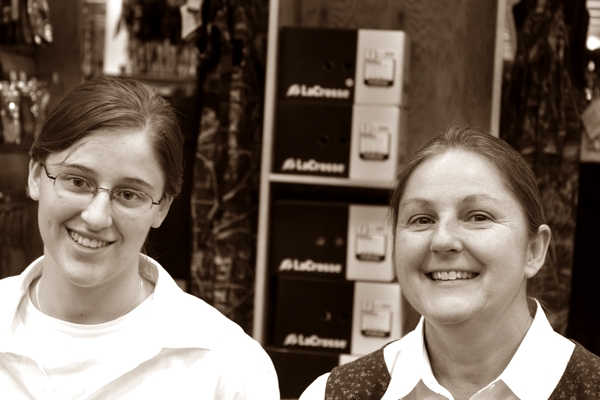 "Honor thy father and mother;
which is the first commandment with promise."
(Ephesians 6:2)

____________________________
3 Comments »
BRIANNA » My sister and I are taking our mom out to lunch and to do a little shopping this Mother's Day…and we're taking care of all the expenses ourselves. It will be a nice little "lady's outing". The only hitch is that my mom will have to do the driving because I don't have my driver's license yet.
BETHANY » I loves this month's monthly thought! This Mother's day we made our Mom a bookmark with 61 reasons why our Mother is such a great mom, each of us kids gave some answers… she loved it! Thanks for all your encouragement!!! God bless, Bethany
BETHANY » Hey Sarah! I just wanted to drop you a note and let you know that I really enjoyed reading your May "Monthly Thought." The pictures are lovely and it was great to see all the ideas for blessing our mothers. It is such a wonderful thing to be good friends with our mothers. On Mother's Day this year, my sister and I prepared a breakfast and then all of my siblings and I presented Mommy with a pot of miniature roses…one of her favorite flowers. It is so easy to take all of what Mommy does for me for granted, that is why I'm glad, too, that there is a special day for doing a little something for her!