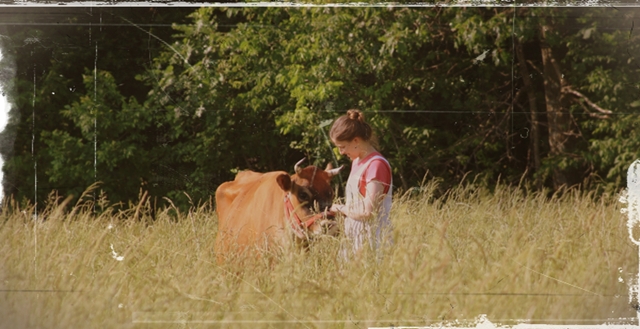 "Hummiimm" rumbles the vacuum. Annie haphazardly runs over stray particles on the carpet, thinking about the next cleaning task that needs to be accomplished. "This vacuum is not doing a very good job of cleaning the floor," she muses. As she is in a hurry to complete the task, she calls it quits and rolls up the vacuum cord. Off she heads to clean the bathroom, but looking at this proclaimed "finished" vacuum job, one would wonder how a "clean" bathroom looks to her!
~~~
At some point in our lives, we probably all have rushed through our chores. The Lord has been showing me during the past few days that I need to work toward a higher level of perfection in my tasks. It is all too easy to leave that chore partially completed, or leave my room in disarray rather than taking the extra few minutes to put the clothes away in my drawer. In the long run, doing things right the first time, will take a lot less time! As our dad says, "It always takes more time to repeat a task than it does to do it correctly the first time."
Beyond the purely practical side of completing a job and doing it well, this is important because it is God's will! God is a a Lord of perfect completion. He never does things half-way. He completes all that He starts. And everything He accomplishes He does to the utmost – highest standard – of perfection. Because He is molding my life, I am so thankful for this as His child! I know He will not leave my life partially transformed into His likeness. He wants to completelytransform and sanctify me! He won't leave the process undone for years and then complete it later when He comes around to it. Philippians 1:6 promises,"Being confident of this very thing, that he which hath begun a good work in you will perform it until the day of Jesus Christ." Praise the Lord! Just take one glimpse of the Pentateuch and it is clearly evident that God is exacting – look at the specifications for Noah's ark, for blood sacrifices and offerings, for His tabernacle – in all these things, clear instructions were given, so that man might meet up to the unwavering standard of God.
This standard of excellence will bleed into every area of our life, because it essentially reveals our core being. Our character is revealed by the way we complete our jobs. This is a habit, and a way of life. It is who we are. Do we meet up the the standard that is expected of us in every task we undertake? Do we please our parents – and the Lord – in all that we do? God commands,
"Whatsoever ye do, do it heartily,
as to the Lord, and not unto men."
(Colossians 3:23)
We need to take initiative to do things without being told. If the trash can is overflowing, don't wait for your brother to take it out later that night when it is chore time. If the bathroom sink is dirty, it does not take but a minute to wipe it out. Don't wait to be told to fold that extra load of clothes on the couch. When we look beyond ourselves – what a difference we can make! We can bring the Lord glory through serving Him in these ways.
We should not seek to do a job well so we can judge those who do not do things as well as we do, to take pride in our ability, or to show off. We should do this in obedience to the Lord, to bring Him glory alone. When this is our goal, then taking the extra pains to do the smallest tasks to the best of our ability makes it all worthwhile – because our Lord sees it. "Humble yourselves therefore under the mighty hand of God, that he may exalt you in due time."(1Peter 5:6). We are to do these things to please our Savior.
Sisters, let us to all that we can to bring glory to the Lord – in every task that He puts before us.
"Let all things be done decently
and in order."
(1 Corinthians 14:40)
A note to the perfectionist out there – my word to you is be a perfectionist for the glory of God – "as to the Lord, and not unto men."
Now if you have chores to do, go do them!

____________________________
3 Comments »
BETHANY » Sarah, What an amazing article, it is exactly what I needed to hear today! Thank you so very much for taking time out of your day to share with us all!!! Blessing!
CHARIS H. » Those are some really good thoughts Sarah, just what I needed! Thank you!