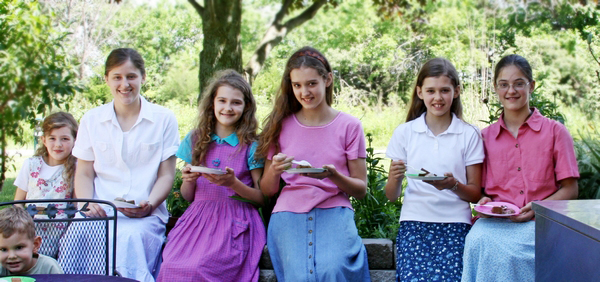 "Now abideth faith, hope, charity, these three;
but the greatest of these is charity" (I Corinthians 13:13).
These words are so often forgotten in the rush of life and the hurry to accomplish our tasks! The admonition that Paul beautifully gives to us in this chapter in I Corinthians is the key to Christian life, the key to living Christ in every moment. In the Bible, the story of Mary and Martha is related with the resounding lesson – actions without love are not what Christ wants from us. He wants our heart (John 11). He wants our love. And when we love Jesus, and do all things for Him, our actions will bring glory to Him.
Let us seek to show the love and grace of Jesus in all our actions, in all of our work – and as my friend Samantha points out – in the work of our hands for our family.
Blessings to you,


~ ~ ~
Having a Heart of Joy in the Kitchen
by Samantha Parker
"Better is a dinner of herbs where love is, than a stalled ox and hatred therewith" (Proverbs 15:17).
Have you ever thought about this verse before? What exactly does it mean to us, as daughters of the King? The book of Proverbs is so full of wisdom! I have found that there is always something new to be learned when I read Proverbs. My parents have often pointed out the principle of Proverbs 15:17 to me. One way our family seeks to apply this verse to our everyday lives is to focus on the attitude we have when we prepare food. Recently, this has been something that I have been especially working on. Many of you may enjoy cooking/baking in the kitchen (like me!). If we don't have the proper attitude, though, all our hard work is naught.
There have been times when I am working really hard to get a certain meal on the table. Sometimes it is a special feast, but more often I am simply trying to get dinner on the table at an early hour. Since I am so busy (seeking to do a good thing by serving my family and friends), I can easily let my guard down. Then, angry and bossy words come spilling out. "Go get this – QUICKLY!!!!!…. Why did you do that – don't you know any better?!…. Quick, quick, quick!" I guess since I am the oldest in our family, I tend to be the one leading. Sadly, all too often I lead in the wrong way. When this happens, sometimes my parents remind me of this simple truth: It is much better to have a "dinner of herbs" – a simple, plain meal that might be late, yet made with love and cheerful spirits, than to have a nice, fancy dinner -even if it does not include a fattened ox, but is "on time" and well thought-out, yet was prepared with strife. Do you see the difference?
I am not saying that making a well-prepared feast or having your dinner on time is not something to be desired. We should be careful, though, to not let those temporary things to ever distract us from the more important task of renewing our relationships with our families! Dear sisters, let us seek to bring glory to the Lord in everything – even in the most "normal" tasks of our everyday lives! True joy comes only from knowing Jesus. If fact, joy is one of the fruits of the Spirit (Galatians 5:22). As we serve the Lord with all our hearts, He will fill us to over-flowing with true lasting joy! May we seek to share that joy with all those we come in contact with. Keep pressing on with joy!
"These things have I spoken unto you, do it
that my joy might remain in you,
and that your joy may be full."
(John 15:11)
Because our Savior lives,
Samantha
____________________________
1 Comments »
BETHANY WARD » What a beautiful article! I have also been thinking a lot on this subject, I am afraid to say that even though I love cooking, I often look towards "getting it done now" no matter how I must act to get it done instead of being cheerful and kind in the way that I serve (and in the way that Jesus would want me to act). Thank you so much Samantha for writing on this, it has really blessed me!!!
Blessings, Bethany
P.S. Another good thing to do in the kitchen is cleaning with a cheerful heart. I LOVE cooking but I am not always so happy to get the cleaning up job. :) Most of older girls in bigger families usually get the cleaning job. But it is very important to be happy and cheerful in that job. "Rejoice in the Lord ALWAYS", but I have found that this applies to everything…even the cleaning job. I have personally been trying to work on this in my own life. It is always so much better to be cheerful than to be rude and grumpy. But anyway, thanks again for your great article!
SARAH LEE » Thank you for sharing your thoughts and encouragement dear Bethany. We all fall into this habit of "getting it done" and we must all just the same seek to overcome it through the example of Christ and His help. Blessings as you seek to do that in your home!