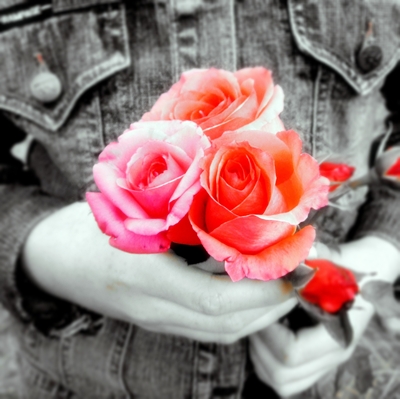 What joy is found when we abide contentedly in the Lord's timing and plan for us. Often it is our tendency to become discontent with our current stance in life. I have found that many of us waste so much of our youth away daydreaming about the future, missing the time at hand we can bless others while patiently trusting the Lord's timing. I want to treasure this season the Lord has me in and treasure each day He gives me; right now that is as a daughter in my father's home, learning to serve my parents and siblings.
The Lord has me here today for a reason and I need to rest in this beautiful moment! Why is there any hurry to "get on with life"? What is the rush for the next longed-for season that we each may be looking forward to? We need to prepare for that if it is God's will for us, while at the same time enjoying the present season He has us in. Every season of life is a wide-open opportunity to witness for the Lord, to grow in the Lord, and to worship the Lord. We need to diligently focus on doing these things for His glory. If we are impatiently "waiting" in discontentment, we will miss so many of the blessings which surround us.
The Lord has encouraged me to simply treasure the moments I have right nowto spend with my family and to be a daughter in my parents' home. I have so much to learn from my family and am very thankful for them, but because I can easily get in the habit of overlooking these "daily blessings," I need to remind myself often of how important they are and take the opportunity to learn all I can during this season. So how do I remind myself to be thankful for the present moment, to make use of this day, and to treasure my family? How can I cultivate a cheerful and content attitude while resting in the Lord?
In the simplest things my attitude is determined. I can make the choice to wake up each morning thanking the Lord for the tweeting birds bidding me open my eyes and marvel at His beautiful creation; I can turn my thoughts toward Christ and His love so as to radiate it to my family; I can look at the stack of dirty dishes with joy that I have the opportunity to help my mother; I can help my siblings with their schoolwork wholeheartedly rather than brushing their needs away; I can take a walk outdoors and notice the beauties of world rather than complaining about the uncut grass. All these choices make the difference between being content where the Lord has me today, or instead I can pine away this season for one that may not come anytime soon! These decisions help me obey the Lord's will to be content in wherever He has me, whatever the current situation. These choices divert my mind from a focus on the imperfections of life – and instead to all the joys of life. I love this verse:
"Rejoice evermore."
(I Thessalonians 5:16)
Girls, make a choice to be thankful and content today. Stop worrying about your future and embrace today and its challenges and blessings. I encourage you to discover the joy and contentment that comes from trusting and abiding restfully in the Lord. Look at the blessings the Lord has given you all day long. You will be so much happier in the Lord! This will be such a blessing to those around you, as well. You need to treasure the day at hand, not fritter it away with eyes focused on some fairy-tale evaporating vision of the "future."
"I have learned,
in whatsoever state I am, 
therewith to be content."
(Philippians 4:11)
We can chose to be discontent and unhappy, or we can choose to abide faithfully in the Lord and rest in His timing – and this attitude of life is far more abundant and joyful! Don't waste your maiden days away, sister. Choose to be joyful and to bless others, focusing on their needs and use the time wisely. It is fleeting! So right now, go to the Lord in thanksgiving and praise Him for the blessings surrounding you today. Cultivate this joyful contentment!
Blessings to you, dear sister~


"Rejoice in the Lord always:
& again I say, Rejoice."
(Philippians 4:4)
____________________________
2 Comments »
SAMANTHA » Thank you for sharing your heart with us once again, Sarah! Mom, Bekah and I were just talking about this very thing today. =) How important it is to treasure our "todays", instead of sitting around waiting for our "tomorrows"! It is so easy to dream or boast about our future instead of making the best use of our time – today. James warns us of this in James 4:13-16. I agree that it is very important to be content in the Lord and wait on Him. Thank you for the reminder that I so need! Have a blessed day resting in the Lord!
MAGGGIE » Thank you so much, Sarah, for your encouraging and thought provoking words! It is too often that I forget to make the most of my time and fritter it away on this and that… Your point about using our maiden years is such a beautiful reminder. When I stop and think about the significance of these years the Lord has given us to prepare, I realize once more how amazing His plan is. Thank you for reminding me and may He bless you.