Congratulations on Completing the Challenge!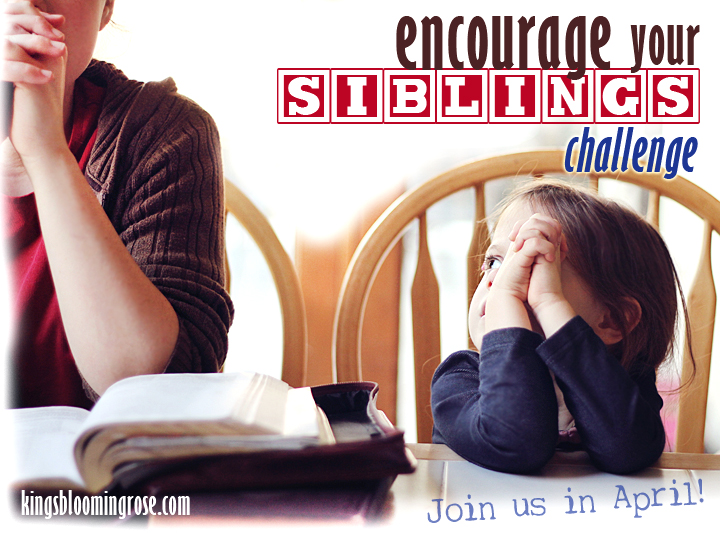 Tomorrow is the last day of April – but not the end of our "Encourage Your Siblings" challenge! The goal of encouraging, exhorting, and praying for our brothers and sisters is one that should last a lifetime, and we pray that this past month you have firmly established that foundation to continue to build upon.
Do not forget to host a special party dinner for your siblings this week! Make this a fun project to work on with your siblings—plan the menu, decorations, special touches—make it unique and a very special time for your family. At dinner, together recite the verses that you memorized with your siblings this month.
We would LOVE to hear about your sibling challenge this month, and your special dinner! Share your testimony (challenges@kingsbloomingrose.com), and if you'd like, send along pictures of you with your siblings, your special party dinner, or projects you did together.
We are so thrilled that you took the challenge to invest in your siblings this past month. It is a joy to see you pour love and encouragement out into their lives, which will reap eternal fruit. Continue to work along side them, encourage them in the Lord, and seek His Word together. Develop this as a solid habit, for as you sow, the Lord will bring the increase. "Let us not be weary in well doing: for in due season we shall reap, if we faint not" (Galatians 6:9).
Praying for you as you embark on life's journey with your siblings,


Sarah Lee


Ways to Enter in our Cookbook Giveaway:
Complete our April "Encourage your Siblings Challenge" and send us a testimony of how the Lord worked through your investment in your siblings. Here is a chart you can fill out.
Extra Entry: Share information about this challenge with your friends via email, your blog, facebook, etc.
Extra Entry: Fill out our short poll
Enter (by emailing us at challenges@kingsbloomingrose.com) by May 6; winner of cookbook will be announced on our website.