Dear Sisters,
Do you make new year resolutions? I love the fresh start of a new year and the opportunity it gives to step back, evaluate my spiritual life, and make goals for the new year. I have been asking myself lately, "Am I seeking Jesus without distractions?"
"Wherefore seeing we also are compassed about with so great a cloud of witnesses, let us lay aside every weight, and the sin which doth so easily beset us, and let us run with patience the race that is set before us."
[Hebrews 12:1]
The phrase, "let us lay aside every weight," has been on my heart. What unnecessary "weights" are in my day-to-day life and tasks? This is an important question to ponder!
As saints of God, we have been delivered from our former sinful ways (Colossians 1:13-14), and set aside by God to be holy and sanctified for His purposes. Hebrews 12:2 commands us to run this race "looking unto Jesus," as we talked about last month.
The concept of "looking to Jesus" inherently means that we are turning our head away from other things. Isaac Ambrose writes,
"The act in the original [text] is very emphatic–aphronontes eis. It signifies an averting or drawing off the eye from one object to another. There are two expressions, apo and eis: the one signifies a turning off the eye from all other objects, the other a fast fixing of the eye upon such an object. So it is both a looking off and a looking on. On what? Looking unto Jesus."
So in this verse, we are commanded to looking away from something in order to look to Jesus. What are we to look away from? Sinful things and from distractions. Sin is usually easily identifiable, but distractions can be a bit more of a challenge to recognize in our lives. These things in themselves may be innocent and harmless, but they can hinder us from walking harmoniously with the Lord throughout every day. The are "weights" that slow us down spiritually.
As wife and mother Susannah Wesley wrote,
"Whatever weakens your reason, impairs the tenderness of your conscience, obscures your sense of God, or takes off the desire for spiritual things..that thing is sin to you, however innocent it may be in itself."
What about you, my friend? As you enter a new year, will you stop and evaluate your own life? Is there anything doubtful in your life, that is not encouraging you in your focus on Jesus?
Distractions can come in countless forms, and they are all different for each one of us. Think through the moments of your day…the things you read, listen to, ponder, meditate on, talk about, watch, say—does anything come to mind that does not exactly point you to the Lord? If you are not really sure if there may be distractions in your life, why not make a sticky note on your desk to remind you to consciously take a look at what is going in and coming out of your life throughout the day. Constantly evaluate what might need to be eliminated to help you run this race more smoothly. It may be something that might be "ok," but needs to be replaced with something "best."
Some common distractions could be…
Culture
Social media
Beauty/fashion
Music
Fiction books
Friendships that are not centered on the Lord
Clothing
Day dreams
Foolishness/jokes
Electronics
Money
Success/appearances
Dreaming of having a spouse or children
Texting
Hobbies
Personal goals
…and there are hundreds more!
Even good things can become distractions, if we let ourselves begin to focus on that "good thing" as the means of becoming holy. Be honest with yourself and see what is in your life that is hindering you from looking to what is Best...
And, what would that be?
We look away from distractions in order to look to Someone of infinite value—the Lord Jesus Christ, the Son of God. One of my favorite verses is 2 Corinthians 3:18:
"But we all, with open face beholding as in a glass the glory of the Lord, are changed into the same image from glory to glory, even as by the Spirit of the Lord."
The idea presented here is that as we look to Jesus, the image of the invisible God (Col. 1:15), we are slowly transformed into His image. As our thoughts and minds are more and more turned from vain distractions and pointed toward Jesus, He imprints Himself on our lives.
We have 24 hours in a day. How much of that time are we spending "looking unto Jesus"? Is it only 30 minutes? A whole hour? These are good places to begin with in our personal time with the Lord (devotions), but we are to be wholly His. He made us. He owns us. We need to "mix" Him into everything we do and say and think. We must be molded around Him.
"The mind assimilates itself to what it thinks much upon; grows more worldly by thinking on worldly things, and more spiritual by thinking on spiritual things." -John Berridge
The undeniable fact is that we will become like the thing upon which we focus. So if we are gazing to Jesus, we will take on His likeness. And as believers, I hope that is our hearts' desire and goal.
So, as you enter this brand new year will you take a look at your heart and life? Write a list of things that tend to attract your attention and take your eyes temporarily from Jesus. Bring these areas before the Lord in humility, praying that He would help you fix your eyes upon Him and transform you as you gaze into His lovely face. Prayerfully evaluate how you can eliminate these distractions, so that you can focus your fullest attention on the Lord this year.
Sisters, we are only given one life. Don't waste your life on frivolous things in this life. It is not worth it! Pledge yourself to Jesus, for He is the only thing worth seeking. Only one life, and it will soon be past. We will be in eternity forevermore reaping the seeds we planted on earth. Will it have been in looking to Christ and living for Him? I encourage you to commit yourself to Him anew and walk hand in hand with Him in 2015. Together, let us press toward the mark for the prize of the high calling we have in Christ Jesus!
"Wherefore gird up the loins of your mind, be sober, and hope to the end for the grace that is to be brought unto you at the revelation of Jesus Christ."
[I Peter 1:13]
Thankful for Jesus,


"Comrades…we are here to live holy, loving, lowly lives. We cannot do this unless we walk very, very close to our Lord Jesus. Anything that would hinder us from the closest walk that is possible to us, 'til we see Him face to face, is not for us."
-Amy Carmichael 

This Month's Desktop Wallpaper: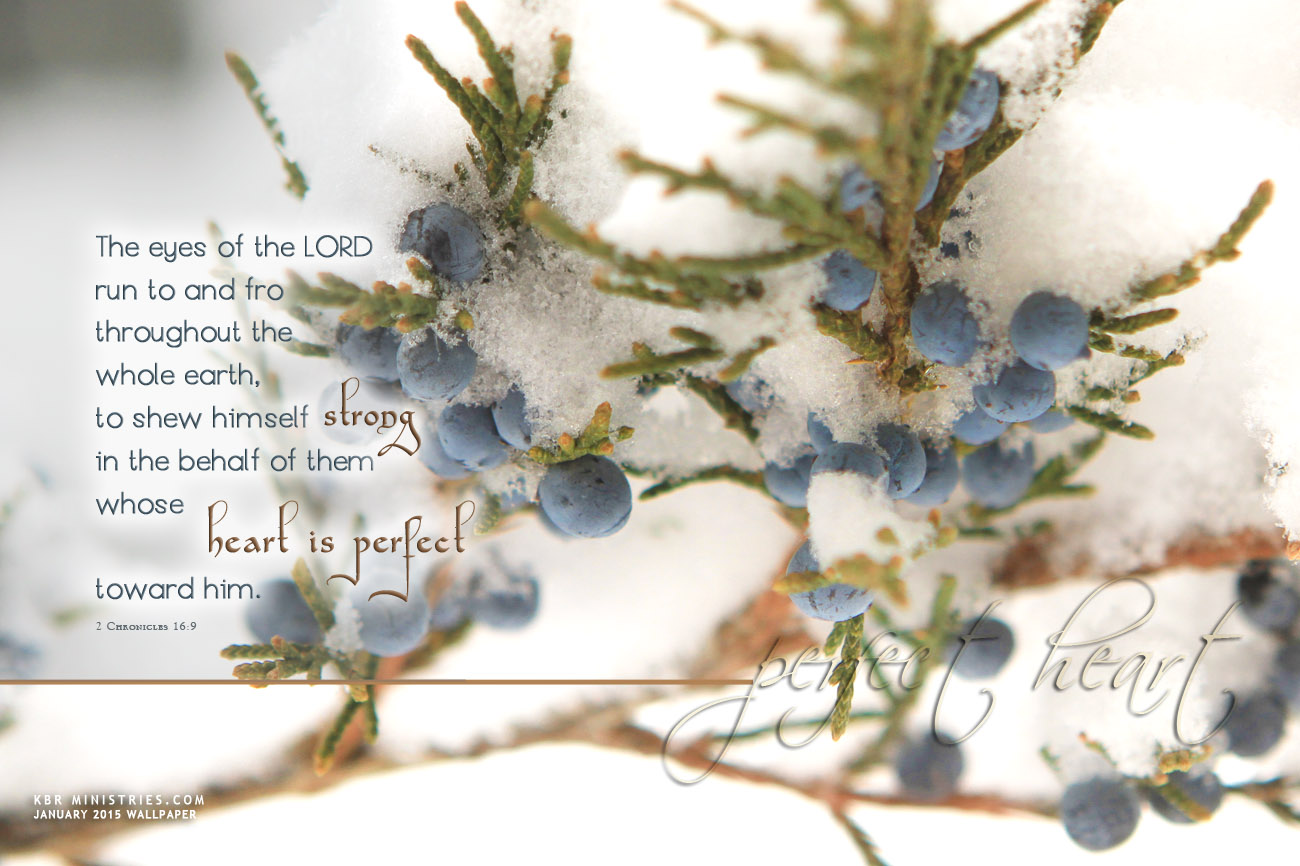 Ten-Year Anniversary Issue of KBR Magazine: