"Choosing God's will over our desires is certainly a lifelong process."
by Mrs. Cynthia Veysey
"Not that I speak in respect of want;
For I have learned in whatsoever state I am, therewith to be content."
[Philippians 4:11]
As believing women, we will all admit that the road to learning settled contentment seems to be a lifelong one. The Christian life is a journey along a wonderfully lighted path. Our Lord Jesus goes on before us, the Holy Spirit, our Comforter, illuminating every step with the light of His Word. Through the years, by God's grace, we see measures of growth toward maturity in every area, including, and perhaps especially, that of contentment and a willingness to only please Him in all that we do. God brings various and sundry things into the lives of individuals, couples and families.
This testimony is what the Lord has given to us and is an area that I find little written about. It may be partly because it involves a relatively 'small' population of Christians, or perhaps because there is very little recorded concerning this topic in the New Testament. I hope that it will be used by God in the lives of others who may be experiencing it, or will in the future.
When I met the love of my life in 1979, we were both new believers. I was eighteen years old, recently graduated from high school and so very excited to begin a second "new life"; that of a keeper of the home; looking forward to being the wife of this wonderful young man and the mother of 12 children, if the Lord would be willing. We married in October of 1980 and month by month, year by year, we prayed and waited expectantly for our first dear little child to come into the world.
After our second year of marriage we were blessed to have our sweet nephew, Bradley, come into our lives on a regular basis. Due to sad circumstances he lived with us, spending time with his father (my husband's brother) for a few hours each day but returning to his home with us for 4 years of his life. We were thrilled to have him from the time he was 9 months old until he was almost 5. This filled a void in our lives for a season, but when God made it clear that we were to move to a different state, Bradley went back to be with his father and soon started school. The separation was difficult for both Bradley and for us but God gave grace through it all.
We had been married nearly eight years at this point and we continued to pray and await God's timing in having children. The Lord moved us into two more major life-changes; one, a relocation to South Carolina so that my husband could attend college at Bob Jones University. Six years later He brought us back to New England to help in a small church. By the time we were sent "back home," where we presently still abide, we had been married 17 years. Though it had not happened yet, we knew that God was still entirely able to bring children into our lives. Being surrounded by nieces and nephews once again was a great blessing, something we had missed for the nine years that we had been away from our home area.
Many times through those years, loving and well-meaning couples reminded us that there was always the opportunity of adoption. Having had witnessed adoption through the lives of grandparents on both sides of my family, I hold it in very high regard. We know many families, and highly respect those who have adopted children into their homes. From the beginning of our marriage we only wanted to have God's will for our lives. I suppose that part of the decision not to adopt may have come from fear of not knowing if it was truly God's will or if in adoption we would just be trying to "fill a void" that God was entirely able to fill with Himself. Whatever the reason, though faced with two opportunities to adopt newborns, we both were convinced each time that it was not the Lord's will. When I turned 40 I went through a tumultuous two months of struggling with the Lord's will in this burden of our hearts. He used the verse from Hebrews 5:8 to remind me that, "Though He were a son, yet learned He obedience by the things which He suffered." Obedience is "learned." Obedience is also a choice. Choosing God's will over our desires is certainly a lifelong process. It is a daily discipline.
"If any man will come after me, let him deny himself, and take up his cross, and follow me. For whosoever will save his life shall lose it; and whosoever will lose his life for my sake shall find it."
[Matthew 16:24, 25]
No two people bear the same cross. Perhaps this testimony is similar to that of many couples, but it is that which the Lord has given to us alone. As you can understand, I can only write from a woman's perspective. It is difficult to know or articulate how a man does view this same situation, but I am thankful that my dear husband has left it completely with the Lord. Our lesson of contentment in 'disappointment' has gone on now for nearly 34 years. By God's grace the 'disappointment' has become less and less, while He teaches us obedience more and more. There will come a day when we step into eternity with our God to worship the Father and Lord Jesus Christ forever. What will it matter then, what we have gone through, "suffered," here on earth? Until then, He says,
"My grace is sufficient for thee; for my strength is made perfect in weakness. Most gladly therefore will I rather glory in my infirmities, that the power of Christ may rest upon me. Therefore I take pleasure in infirmities, in reproaches, in necessities, in persecutions, in distresses for Christ's sake; for when I am weak, then am I strong."
[2 Corinthians 12:9,10]
–By Mrs. Cynthia Veysey
who writes from Vermont. She is the joyful wife of her loving husband, and they serve the Lord in a small Bible church and both help with the care her dear, 85-year-old mother.
"When thy secret hopes have perished in the grave of years gone by, let this promise still be cherished, 'I will guide thee with mine eye.'"
-William Cowper [I will Guide Thee With Mine Eye]
Photography by Maggie and Martha Joy B.

This Month's Desktop Wallpaper: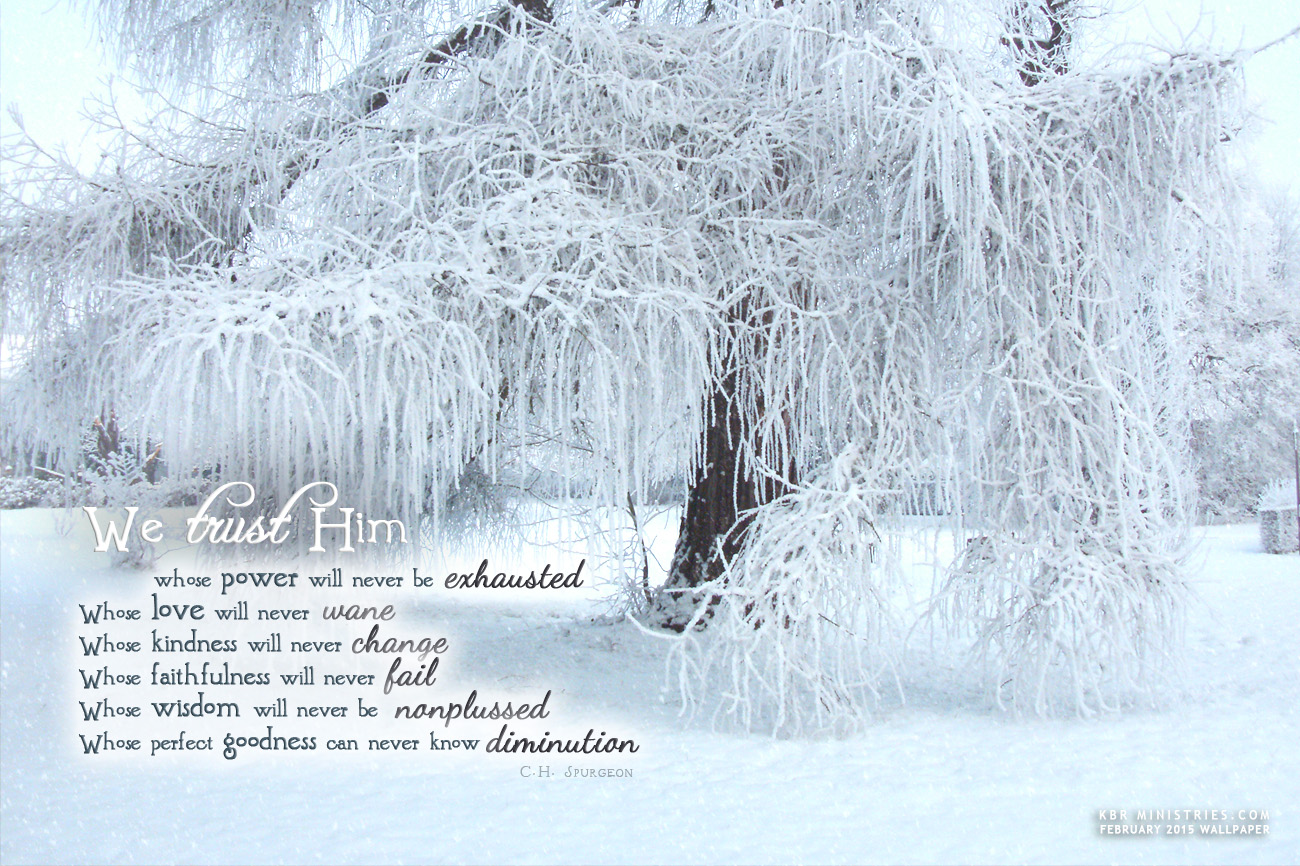 Ten-Year Anniversary Issue of KBR Magazine: